Bashundhara To Supply Cement To Metro Rail Project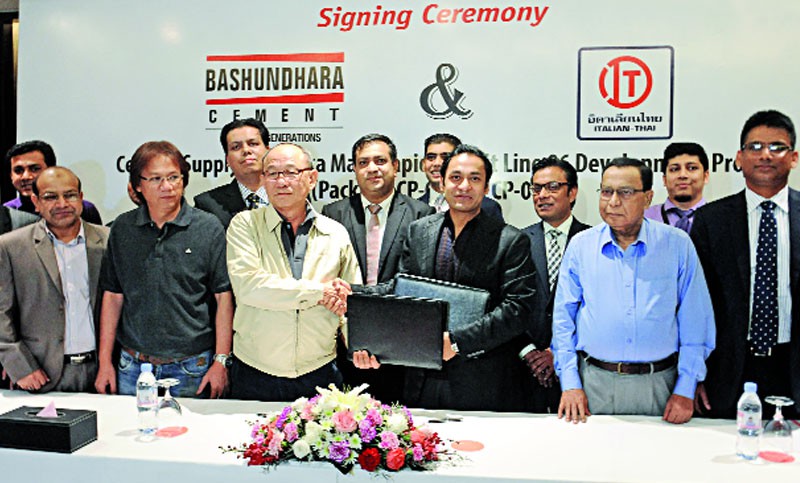 Bashundhara Cement, a sister concern of Bashundhara Group, will supply 200,000 tonnes of cement to the country's first-ever Metro Rail project.
Thailand-based construction firm Italian-Thai Development Public Company Limited (ITD), a contractor of the project, signed a deal in this regard with Bashundhara Cement on Saturday.
Bashundhara Group Managing Director Sayem Sobhan Anvir and ITD Project Director Wichien Roongrujirat signed the deal on behalf of their respective sides at a function at Le Meridian Hotel in the city.
ITD Project Manager Thawit Yuenyong, Bashundhara Group Senior Deputy Managing Director Belayet Hossain, Deputy Managing Director Md Mustafizur Rahman, Chief Financial Officer Tofail Hossain, Cement Sector General Manager Khandaker Kingshuk Hossain, and Bashundhara Group Media Advisor Mohammad Abu Tayeb were present on the occasion, among others.
Bashundhara Cement was chosen for the Metro Rail project owing to its superior quality and speciality in production through VRM (Vertical Roller Mill) technology.
VRM is the most advanced technology in cement manufacturing.
Bashundhara Cement has adopted VRM from Loesche, Germany in both its factories to ensure the best quality.
The metro rail, which is known as Mass Rapid Transit system, will run from Uttara to Motijheel and carry some 60,000 passengers per hour. The project is financed by the Bangladesh government and Japan International Cooperation Agency.
Partial trial operation of the MRT is scheduled to start by the end of 2019, while the commercial operation of the full system is expected by the end of 2020.