Bashundhara Group, CREC Sign Deal On Cement Supply For Padma Bridge Rail Link Project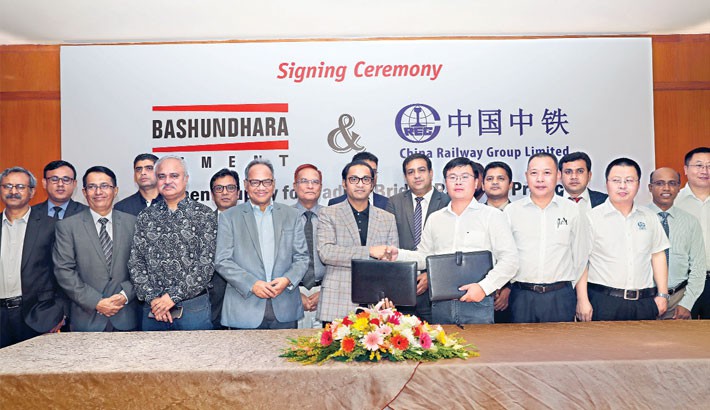 Bashundhara Cement, a concern of the country's largest business conglomerate Bashundahra Group, on Sunday signed an agreement with China Railway Group Ltd (CREC) to supply cement for the construction of Padma Bridge Rail Link Project.
Bashundhara Group Managing Director Sayem Sobhan Anvir and Padma Bridge Rail Link Project's project manager Tao Jun signed the agreement on behalf of their respective sides at a city hotel.
Under the deal, Bashundhara Group will supply more than 7 lakh metric tonnes of cement for the construction of this mega project.
Among others, Major General (retd) Mahbub Haider, Advisor of Bashundhara Group, Maynal Hossain Chowdhury, Advisor (Treasurer) of Bashundhara Group, Imdadul Haq Milon, editor of the Kaler Kantho, Naem Nizam, editor of the Bangladesh Pratidin, Md. Tofail Hossain, Chief Financial Officer (CFO), Khandaker Kingshuk Hossain, Chief Marketing Officer (cement sector) of Bashundhara Group were present on behalf of Bashundhara Group.
On the other side, China Railway Group Ltd (CREC) project manager Yu Zhengquan, deputy project manager Ren Xiaolin, procurement director Li Qing Lan and Ramon Chao, deputy project director Chui were present on behalf of China Railway Group.
Bashundhara Cement has been chosen after scrutiny including factory inspection, production capacity, supply system and quality assessment, company sources said.
Chief Marketing Officer of Bashundhara Group said that 169km rail line from Dhaka to Jassore will be built under the project, where Bashundhara Cement will be used as per the agreement.
Bashundhara Cement is being used in other megaprojects of the country like Padma Bridge, Padma Bridge River training project, Dhaka Elevated Expressway, Rooppur Nuclear Power Plant, Matarbari coal-fired power plant, Payra Bridge and some other projects.