Bashundhara Cement To Be Used For Meghnaghat Power Project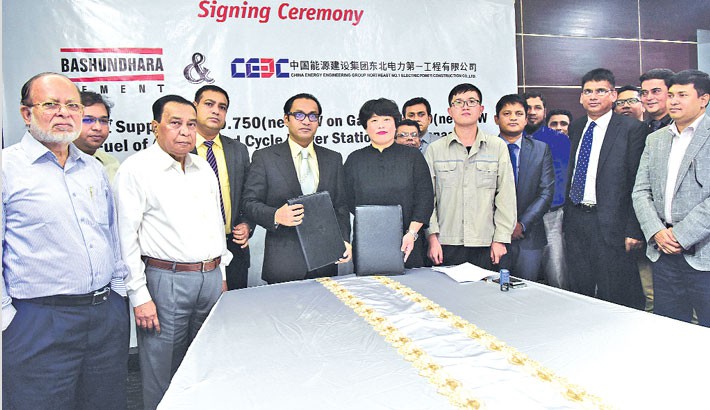 Bashundhara cement is going to be used for the construction of a dual fuel-fired combined cycle power station at Meghnaghat in Narayanganj.
Bashundhara Group, the country's largest business conglomerate, has been supplying cement to Padma Bridge, Metro Rail, Elevated Expressway, Rooppur Nuclear Power Plant, Matarbari Thermal Power Plant, Paira Bridge, Rupsha Rail Bridge, Rampal Power Plant and other mega projects.
As part of its participation in the construction of physical infrastructures in the country, Bashundhara Group has signed a deal with a leading Chinese company for the construction of the power plant at Meghnaghat.
Bashundhara Industrial Complex Limited has entered into a contract with China Energy Engineering Group Northeast No 1 Electric Power Construction Limited (NEPC).
Bashundhara Group Managing Director Sayem Sobhan Anvir and NEPC Project Material Purchasing Manager Xie Jing signed the deal.
The signing ceremony was held at Bashundhara Industrial Headquarters-1 in Bashundhara Residential Area of the capital on Tuesday.
Earlier, the reputed Chinese company visited Bashundhara Cement Factory and was convinced with its quality product.
Produced in VRM technology, the cement is of a high standard to ensure durable and sustainable structures.
The instant power plant project will require 45,000 metric tonnes of cement.
Bashundhara Group Senior Deputy Managing Director Md Belayet Hossain, Deputy Managing Director (Cement Sector) Engineer AKM Mahbub-uz-Zaman, Treasurer Moynal Hossain Chowdhury, Adviser Maj Gen (retd) Mahbub Haider Khan, Chief Financial Officer Md Tofail Hossain, Chief Marketing Officer (Cement Sector) Khandker Kingshuk Hossain, General Manager (Sales) Engineer Md Mahmudul Hasan and Manager (Technical Support) Engineer Imam-Al-Qudrat-e-Elahi were present, among others, on the occasion.
Meanwhile, NEPC high-up Likeng attended the signing ceremony.
The dual fuel-fired combined cycle power plant is going to be constructed with net generation capacity of 589.750 MW on Regasified Liquid Natural Gas (RLNG) and 541.220 MW on High-Speed Diesel (HSD).
The project has been initiated at Meghnaghat Power Hub to meet the country's growing demand for electricity, which is the mother of all development.