Bashundhara Cement Is In The Elanga-Hattikamrul-Rangpur Road Project (WP-10)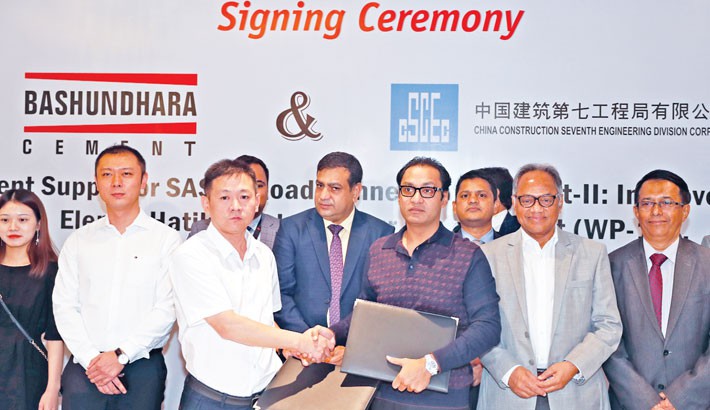 Under the Sasek Road Connectivity Project-II and the Elanga-Hatikamrul-Rangpur Road Development Project, the best Bashundhara cement will be used in the construction of bridges, culverts, overpasses and underpasses in the development of a 24.5 km four-lane road from Mokmatala to Palashbari. In this regard, the contractor for the project, China Construction Seventh Engineering Division Corporation, has been signed with Bashundhara Industrial Complex. On Thursday, November 07 Sayem Sobhan Anvir, Managing Director of the Bashundhara Group and Project Manager of Sasak Road Connectivity Project Jang Yong Yi signed the agreement on behalf of their respective organizations at Hotel La Meridian Dhaka.
It was informed that China Construction Seventh Engineering Division Corporation has decided to use Bashundhara Cement in the related projects, rich in modern technology, manufactured at one of the country's largest production capacity clinkers and confident of proper quality continuity and proper supply system. At present all the important projects of the country such as the original Padma Bridge, river governance of Padma Bridge, Railway connection project of Padma Bridge, Metro Rail, First Dhaka Elevated Expressway, Paira Bridge, Sasek-1, Kalashi Flyover, Western Bangladesh Bridge Development Project, S Alam Power Plant. , Roppur Nuclear Power Station, Matarbari Thermal Power Station, Rupsa Rail Bridge, Rampal Power Station and other Z Bashundhara cement is used in large facilities.
Also present at the signing ceremony were China Railway Engineering Corporation (South Asia Company) General Manager Ga Sichao, Material Manager Dong Jing, Vice President of Bashundhara Group. J. Mahbub Haider and Mohammad Abu Tayyab, director of the East-West Media Group and editor of the Daily KalerKantho, Imdadul Haque Milon, Chief Financial Officer of Bashundhara Group. Md. Tofail Hossain, Chief Marketing Officer (Cement Sector) Khandaker Kingshuk Hossain, General Manager (Sales) Engineer. Mahmudul Hasan, Manager (Technical Support) Engineer Imam Al Qudrat-e-Elahi, Manager (Marketing Functions) Md. Saiful Islam Rubel including other officials was present.