Bashundhara Cement Factory Kicks Off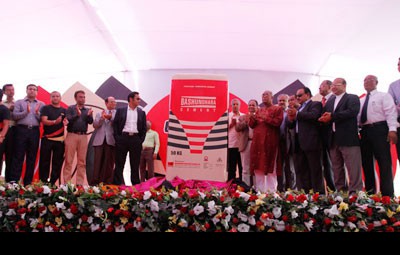 From Mongla: The biggest ever vertical rolling mill of the country's cement industry, owned by Bashundhara Group, country's leading business conglomerate, kick-started in the district on Monday morning.
Mayor of Khulna City Corporation (KCC) Talukdar Abdul Khaleque inaugurated the factory in the morning. Besides, leading national level and local leaders were present in the function.
Through this industry, another feather has added in the success story of Bashundhara group.
A huge gala function has been arranged to mark this milestone occasion of inaugurating this new cement factory at the Mongla sea port.
Meanwhile, the factory area has been decorated colorfully. The whole environment is in the festive mood now.
This cement factory will produce 10 lakh 20 thousand tons of cement annually. So long Bashundhara produced about 1.2 million tons of cement. After this new factory goes into production the total production of Bashundhara cement will reach 2.4 tones, which is 16th percent of the country's total demand.
In 1996 Bashundhara group entered into cement production industry. Then the cement production capacity was three lakh tones annually. In 1998 the capacity enhanced to 7 lakh 20 thousand tones in the expanded project.
So long the cement in the country was produced in Ball mills. Though there were few vertical mills those were small. This biggest vertical mill is the first in size in this country.
The cement to be produced in this new mill will be more in quality and technology dependent. Deputy Managing Director (DMD) of Bashundhara Industrial Complex (cement sector) Engineer A.K.M. Mahbubuzzaman informed that the new factory is in conformity with the geographical location of Bangladesh as well as environment-friendly.
Top ranking industrial group Bashundhara started its journey in cement sector in 1996 with composite cement taking it as a challenge.
In the beginning, though many opposed this composite conception they have now become compelled to follow the 'Bashundhara path' by leaving Ordinary Portland cement (OPC). For this reason, Bashundhara is now regarded as the forerunner of this conception.
The new German-made vertical roller has been installed in this mill supplied by world famous cement factory machinery producer Lose company.
The source informed that twenty-four types of cement are produced in the world. These are not used in all works. Each type is used in different type of works. In Bangladesh, though two to three types are produced those are being used in all works.
It is learned that now the total production capacity of Bangladesh stands at 20 million tones while the annual demand is 12 to 16 million tons. The demand is increasing at the rate of ten percent annually.
It may be mentioned here that there are 123 factories in the country. Of those 32 are producing to its full capacity, while 31 factories are in partial production.
The cost of the cement here is the lowest in the world. It costs per bag in the European Union(EU) and in the USA 10 to 12 dollar. In Dubai it is 8 dollar, In India and Pakistan, it costs 4 to 5 dollar. In Bangladesh per bag, cement is quarter to four dollars. The government gets revenue at the rate of about one dollar per bag.
The entrepreneurs of cement industries informed that our cement has a vast demand abroad. But due to some complications, the business people cannot avail that market abroad.
The cement industry insiders claimed that the correct decision of the government can open the door to those possibilities.
Amongst the others, BG Managing Director Sayem Sobhan, country's first online portal banglanews24.com Editor-in-Chief Alamgir Hossain, Daily Kaler Kantha Editor Emdadul Haque Milon, Bangladesh Protidin Editor Nayeem Nizam, Agrani Bank Managing Director and Chief Executive Syed Abdul Hamid, NCC Bank Managing Director and Chief Executive Md Nurul Amin, Dhaka Bank Managing Director Khandakar Fazle Rashid, BG Senior Deputy-Manager Belayet Hossain, Deputy-Managing Director Mostafizur Rahman and Deputy-Managing Director (Cement) Engineer AKM Mahbub-Uj-Zaman were present in the programme presided over by BG Chairman's Chief Advisor Mahbub Morshed Hassan.