Bashundhara cement being used in country's mega projects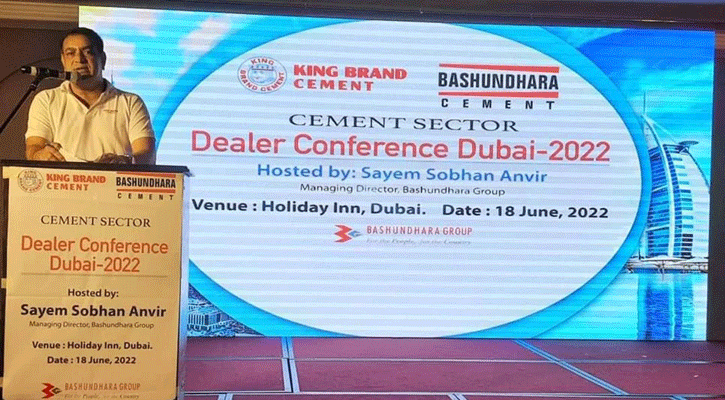 The Dealer Conference -2022 of Bashundhara Cement was held at Holiday International Hotel in Dubai of United Arab Emirates (UAE) on Saturday night.
The conference was organised at the initiative of Bashundhara Group Managing Director (MD) Sayem Sobhan Anvir where 120 dealers took part from across the country.
A cultural program and raffle draw were held at the end of the conference. Bashundhara Group gave valuable prizes in the raffle draw.
While speaking in the conference, Chief Marketing Officer of Bashundhara Cement Khandaker Kingshuk Hossain said, Sayem Sobhan Anvir, MD of Bashundhara Group, is the main architect of today's event of Bashundhara Cement in Dubai.
"We are holding this years' conference with the participation of 120 dealers, but in the future, we will arrange this programme in large scale where all dealers of the country will be able to participate," he said.
He wished that the problems created in demand and supply of Bashundhara Cement would be resolved within this week.
"We are very proud as Bashundhara Cement, which has been leading country's cement sector since 1992, is being used in all mega projects," he added.
He also thanked Bashundhara MD for giving all out support to organise such a programme.
Bashundhara Cement Sector's Assistant General Manager Ziarul Islam told the dealers, "Bashundhara Cement is moving forward with the cooperation of you all".
Editor of Bangladesh Pratidin Naem Nizam, CEO of Bashundhara Group Banking Sector Rajiv Samad, Chief Financial Officer (CFO) Noor e Alam Siddique, News24 Executive Editor Rahul Raha and Deputy Chief News Editor Ashikur Rahman Shravan, Bashundhara Group Cement Sector's General Manager Abdul Latif and Head of Brand Saiful Islam Rubel were present in the programme.
Source: banglanews24