Bashundhara Group Provides PPE, Masks For BIWTA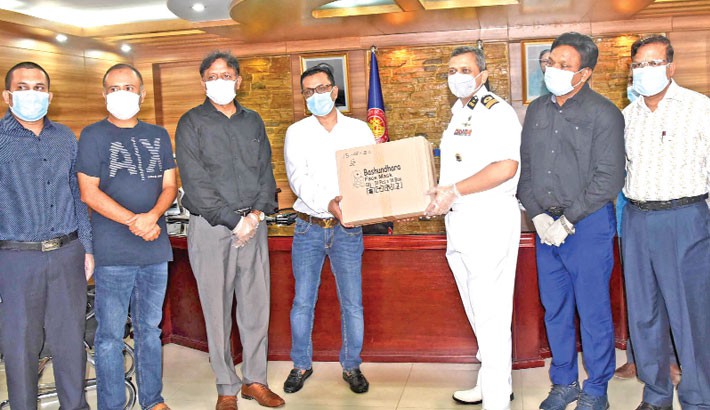 Bashundhara Group has provided personal protective equipments (PPE) and facemasks to Bangladesh Inland Water Transport Authority (BIWTA) so that officials of the government organization can do their duties amid worsening corona situation in the country.
On behalf of Bashundhara Group Managing Director Sayem Sobhan Anvir, his Secretary Maksudur Rahman handed over 1,000 PPEs and 10,000 masks to BIWTA Chairman Commodore Golam Sadeq at BIWTA office in Motijheel in the capital on Wednesday.
Among others, Bashundhara Logistic Executive Director Habib Ishtiaq Ahmed, Bashundhara Port Senior General Manager Rashed Ahmed, Bashundhara Infrastructure Development Chief Operating Office Commodore Khurshid, BIWTA members Delowar Hossain, Nurul Alam, Director Wakil Nowaz and Chairman Office coordinator Selim Sheikh were present on the occasion.
After receiving the safety kits, BIWTA Chairman Golam Sadeq expressed his gratitude to Bashundhara Group for its contribution.
Sadeq said that the PPEs and masks will help the frontline workers in the country's shipping sector to continue their duties for safe transportation of essential goods.
Bashundhara Group has been contributing to the nation in any emergency situation.
The business conglomerate built a temporary isolation hospital for treatment of corona patients.
Bashundhara Group Managing Director Sayem Sobhan Anvir provided Tk 100 million to the Prime Minister's Relief Fund.
Earlier, Bashundhara Group provided 25,000 facemasks and 3,000 Personal Protective Equipments (PPE) to Bangladesh Ansar and VDP, 25,000 face masks and 1,000 PPE for Border Guard Bangladesh (BGB) while 50,000 masks for Dhaka Metropolitan Police (DMP), 50,000 masks and 1,400 packets of food items for Rapid Action Battalion (RAB), 50,000 masks, 500 PPEs and 700 packets of food items for Navy, 25,000 masks for DMP Traffic Division (North), 1,000 PPEs and 50,000 masks for the Directorate General of Medical Service (DGMS) to tackle corona pandemic.
Moreover, several thousand low-income people were provided with food support by the group across the country.